Recruitment Marketing Public
When you create a new form field using the form builder, you have the option of having that field represented in the platform's Advanced Search feature as an additional data type around which you can construct your candidate search.
This means you can search for, view, and segment into a list, all candidates according to the information they entered into a custom form field.
Example:
In the form below, the custom field asks candidates to indicate which departments they are most interested in.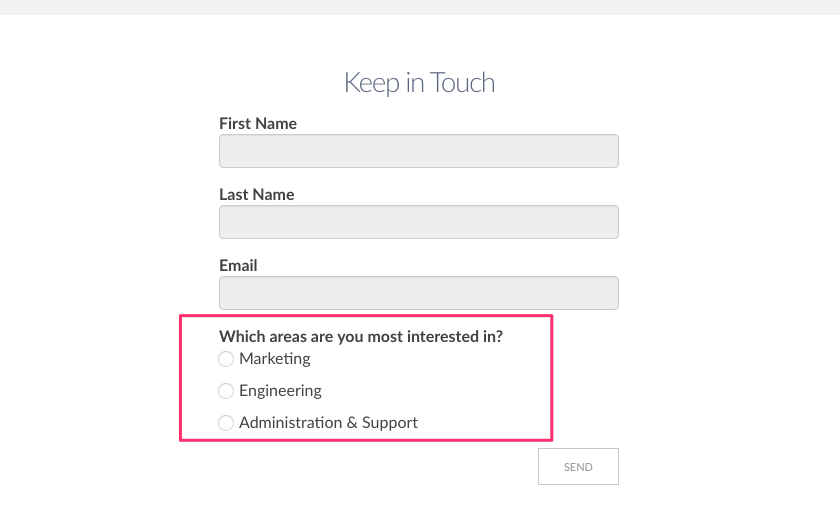 Assuming the Show this in Advanced Search checkbox has been selected at the form building stage, this field will appear as a data type in Advanced Search, with users then being able to search for candidates based on their response to the question i.e. all candidates for whom Department preferences equals Marketing or Engineering or Administration & Support.
Configuring the form field
To include a custom form field as a data type in Advanced Search, the relevant box must be checked in the form builder. You can do this retroactively as follows
From the side menu, under Content click Calls-To-Action.
Next to the relevant CTA, click the hyperlinked number of Fields.




Next to the relevant form field, click the Edit icon.




Ensure that the Show this field in Candidate advanced search & Workflow is selected.




Click the Save button to keep the setting.
Candidate search by custom form field input
From the side menu, under CRM click Candidates
Alternatively from the Home Dashboard, click Candidates

At the All Candidates list, from the right side, click the Columns panel to expand it
Select the required checkbox to include or exclude it from the column list.
For example: Form-type CTA demo
In the text field beneath the newly added column for the CTA, click the Filter icon.
Define the filter criteria by setting the drop down to either Equals or Occurs in a list. For example: Equals
In the Filter text field, enter the term to filter by. The term value will be directly related to the information the candidate enters in that form field.
For example: Department preferences.
The candidate list will refresh as it it built with the matching results.