Recruitment Marketing Public
Summary
hireEZ allows organizations to automate their search for top talent with their EZ Sourcing product. This capability provides a view into more than 800 million candidates from over 45 open web platforms.
When combined with the Recruitment Marketing module, the integrated solution combines the power of Recruitment Marketing's CRM functionality with hireEZ's rich candidate data hub and AI sourcing capabilities to create an end-to-end candidate acquisition tool for our mutual customers.
Benefits
The powerful two way integration provides the following key benefits to customers:
Prospects sourced from hireEZ's rich talent database can easily be exported from hireEZ directly into the Recruitment Marketing CRM, where those potential candidates can be nurtured via Recruitment Marketing's automation capabilities.
Candidate data from your Recruitment Marketing CRM is automatically synchronized into your hireEZ platform, and can be viewed inline within the prospective candidate's profile within hireEZ to assist with candidate rediscovery.
Configuration
Pre-requisites
To utilize the integration between Recruitment Marketing and hireEZ, customers must have appropriate commercial agreements in place with hireEZ. Please speak to your hireEZ representative to understand any commercial considerations, or for customers who are not currently working with hireEZ, please speak to your Clinch / PageUp account contact so that we can connect you with the hireEZ team.
Initial setup
Details of how to configure the integration between Recruitment Marketing and hireEZ, including how to generate the required API keys within the Recruitment Marketing module, can be found here.
Enabling Candidate Rediscovery
In addition to the initial set-up, for customers who would like to enable the synchronization of data from Recruitment Marketing to hireEZ to facilitate the candidate rediscovery process, please refer to their set-up guide.
After this is enabled, hireEZ will immediately start pulling candidates from your Clinch account to your hireEZ talent pool and refresh and enrich them. hireEZ will also pull new candidates every day. Depending on the volume of existing data within your CRM database, the initial synchronization make take a number of days to complete.
User guide
Export candidates to Recruitment Marketing
Once you have identified candidates from hireEZ's talent sourcing database who you would like to add to the Recruitment Marketing CRM, this can be achieved easily from within the hireEZ system.
Simply select one or more candidates from your hireEZ project, and select the option to "Export", and select "Clinch" as the system you would like to export the candidate to.
You will then be able to select how you would like to export them, as seen here: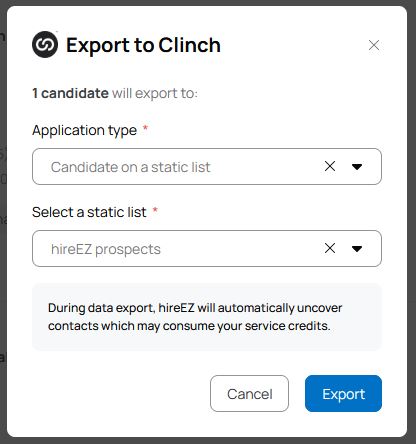 When exporting, you can select to the following as the Application type:
Prospect not on a job - this will add the individual to the general candidate pool in Recruitment Marketing CRM
Candidate on a static list - this will assign the candidate to the selected static list within the Recruitment Marketing CRM.
In both cases, the following information (where available) will be exported to the newly created candidate record in Recruitment Marketing:
Name
Primary contact details - email & telephone number
Education history
Employment history
Skills
Tags assigned to the person in hireEZ
a PDF copy of their hireEZ profile
Note: Currently new prospects can only be exported to Recruitment Marketing once. If you try to export a person who already exists in Recruitment Marketing the export will fail for that person. This can be viewed via the export log in hireEZ.
You can easily identify if an individual already exists in Recruitment Marketing, as the Clinch / Recruitment Marketing logo will be visible on their profile in hireEZ, as shown here: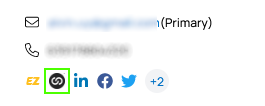 Once a person has been exported to the Recruitment Marketing system, you can potentially do any of the following:
Add them to a static list
Add them to a sourcing board
Assign further tags
Send a consent email
Send them an SMS
Candidates who are exported from hireEZ are considered to be "Manually added candidates", so applicable data protection rules will define whether the candidate is considered to be "subscribed" or "unsubscribed" to receive communications.
Candidate Rediscovery
When candidates rediscover has been enabled, and the data has synchronized between Recruitment Marketing and hireEZ, user will be able to view key information from the Recruitment Marketing CRM about the candidate directly from the prospect screen within hireEZ.
Candidates who already exist within your CRM database will be clearly identifiable from within hireEZ: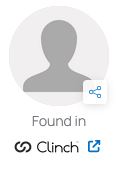 Other key information related to the candidate's engagement will also be visible, as shown here:





If applicable, details of job applications, including the current status of those applications will also be available on the prospect profile screen.
Additionally, searches within hireEZ can be limited to only include candidates who already exist within your Recruitment Marketing CRM database.