Recruitment Marketing
Public
The way that people work is continuing to evolve, and remote working - either fully remote or in some cases hybrid arrangements - is a key aspect of this.
It is important when potential candidates are searching for job opportunities on your Recruitment Marketing powered career site that they are able to easily identify remote opportunities.
To that end, Recruitment Marketing allows jobs to be marked as Remote jobs, and additionally, they can be further categorised as:
On site
Fully remote
Hybrid remote (i.e. partially on site and partially remote)
Marking a Manually Created as Remote
When creating a job manually within Recruitment Marketing it is possible to specify whether a job is remote:
By default, if a job is not marked as a Remote Job it is considered to be On site. Additionally, if a job is marked as a Remote Job, but no Remote kind is specified, it is considered to be Fully Remote.
Marking ATS Integrated Jobs as Remote
In addition to marking manually created jobs as Remote Jobs, the vast majority of our ATS integrations allow jobs to be automatically marked as Remote Jobs based on the criteria specified within the ATS configuration settings.
Generally speaking, criteria can be added to the configuration options to automatically identify Remote Jobs of the following kinds:
Fully remote
Hybrid remote
To view the configuration options available for your particular ATS, please review the documentation available here.
Adding Remote as a Job Search Filter
For customers who have configured their Recruitment Marketing system to identify Remote Jobs, they may wish to make this available as a filter option on their Job Search Results block.
For information on how to configure a Job Search Result block, please review this article.
An example of how this can be configured is shown below: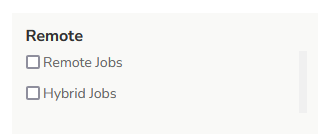 To configure the Job Search Result block as per the image above, it is necessary to enable both the Remote and Hybrid filters. Depending on your organisation's specific needs, you may also elect to only enabled one or the other.