PageUp is always looking to improve and build upon the world class support we offer customers. On 18 July 2022, we launched Zendesk as our new platform for supporting you. The people that provide you with our awesome service won't be changing, only the tool they use to do it.
Regardless of how you choose to contact us - via chats or email, we will be raising support tickets in and communicating with you from Zendesk.
Your experience will be very similar to what currently exists. There will be some additional enhancements, including the ability during a chat to upload attachments like screenshots.
Knowledge Portal is now LIVE
A new home
The Knowledge Portal has gone through iterations over the years and has long lived on an infrastructure that has served us all well. The time has come for something new, bright and shiny! Much love has been put into migrating and ensuring the content you know onto a new set of wheels and we can't wait for you to come along on the ride with us.
We hear you! Based on your feedback, the home page showcases what is most important - getting access to the content quickly! Each module is front and centre.
Search
Searching in the new Knowledge Portal will be a lot easier than it was before! The new Knowledge Portal performs a full-text search of our knowledge base articles.
When entering a search query, the search algorithms get to work, looking for indicators of the most relevant results and ranking them. The relevant snippet from the content of articles is created and the search results and relevant search filters are displayed on the search results page.

Viewing your activity
Not only is the Knowledge Portal your one-stop shop for all things PageUp, but it is also an avenue for you to raise, view and track your ticket activity. Don't worry, you can still contact our Global Support team using the same methods you know and love.
On that note…
You can chat with our Global Support team (online 24/5) directly from the Knowledge Portal! Just click on the Chat button located at the bottom right of the page.
Login access
We've also made it easier for you to access the Knowledge Portal. Access is now tied to your PageUp user account. If you're logged into PageUp, you will be automatically logged into the Knowledge Portal. If you're not already logged in to PageUp, you'll be redirected to log in using your PageUp details.
From the ATS
Click on the ? icon (help menu) to access Knowledge Portal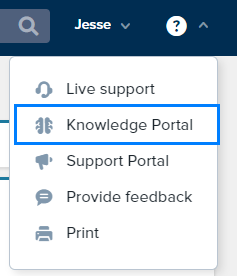 From the Knowledge Portal
Click the Sign In button and you will be redirected to the PageUp login page for you to enter your PageUp credentials or Single sign-on (if enabled).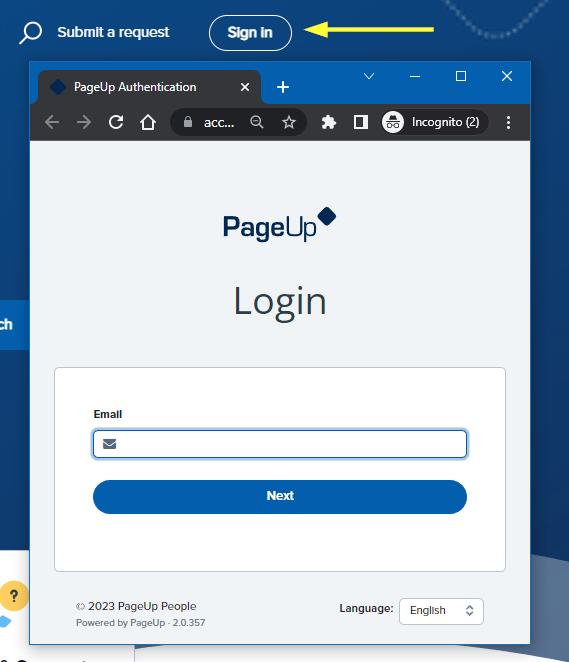 Support experience
Accessing support remains the same. We will still offer in-system live chat, or you can email or phone us depending on your preference.
Chat
Chat will still be accessible from the Live support link in the system.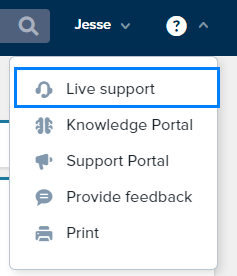 A pop up will display with your name and email. There you will be able to enter your question.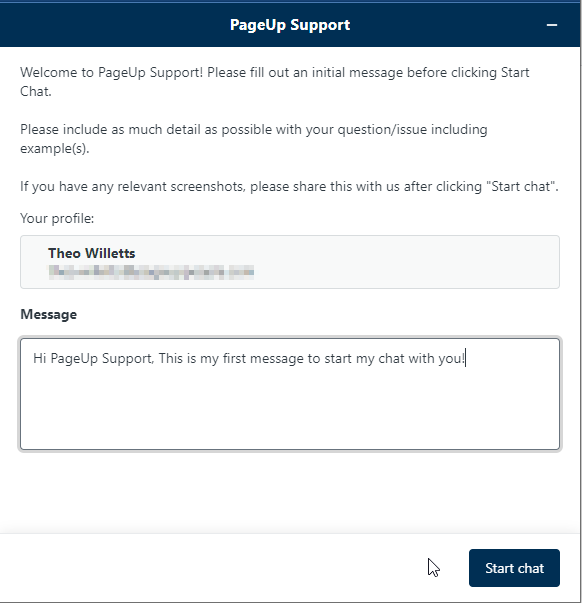 When ready, click the Start chat button to be connected with a member of our Support team and begin chatting.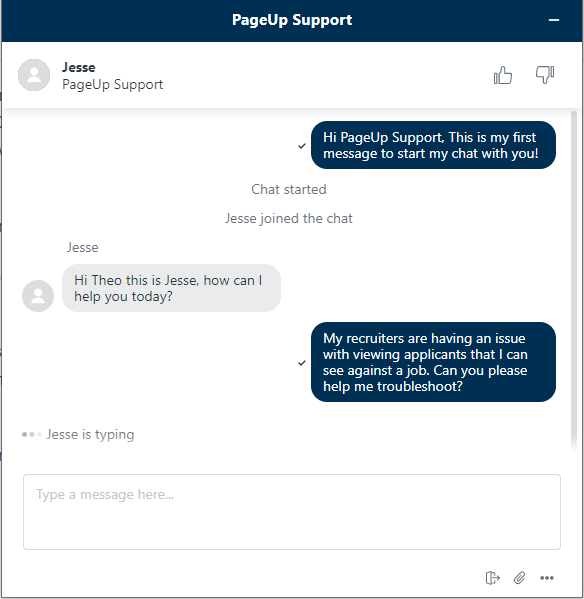 You can use the paperclip icon to upload any attachments - such as screenshots, that will help the Support team understand the situation.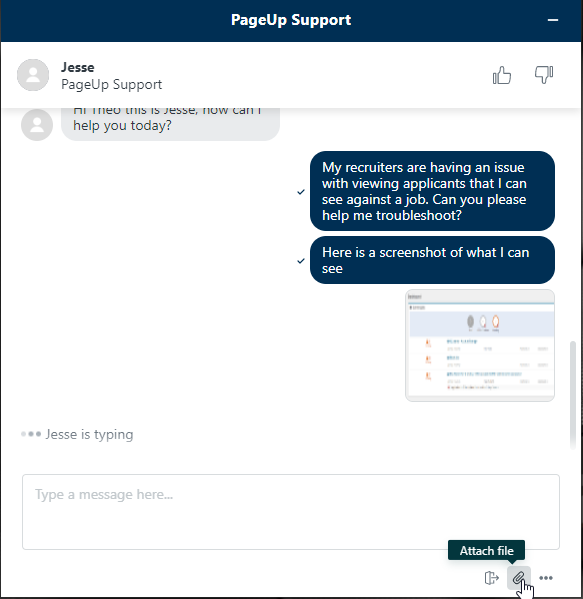 Other options available during the chat are: to rate your live chat experience; turn on or off the alert sounds; and end chat.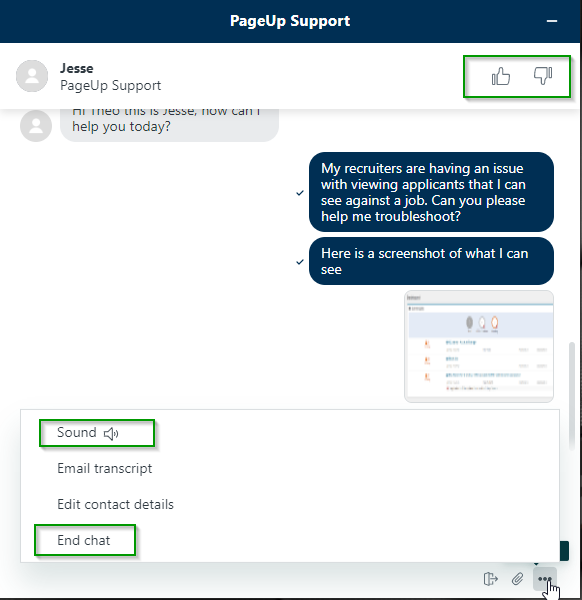 Once the chat has finished, you will automatically be emailed a copy of the chat transcript. You also have the option to email it to yourself during the chat.
Email
You can still contact us via email at support@pageuppeople.com and include any relevant attachments that will help us, help you. Upon Support receiving the email, a ticket will be raised automatically. You will be sent an email confirming that we have received your submission, and that it is in our queue to be actioned. Whenever you reply to a Zendesk support email, your response will be automatically attached to your existing the ticket for the team to review. Please note, that emails sent from the PageUp Support team to you will now look like: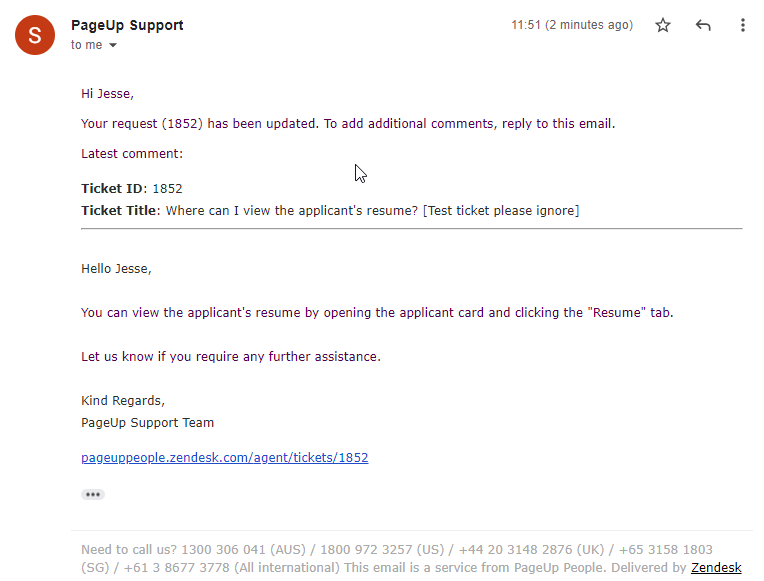 Phone
Our global phone numbers (login required) will remain the same. When you call us, we will raise a ticket for you in Zendesk. If your question was answered on the call, you won't hear anything further about it. If we need to provide you updates, we will send you an email. You can reply to those emails at any time and the reply will be attached to the ticket, and the support analyst notified.
Accessing your tickets
When you contact PageUp Support for the first time from 18 July, you will receive an email asking you to verify your account.

Once you have verified and set a password for your new account, you can view your tickets by clicking My Tickets. These can also access this area from within PageUp via ? icon (help menu) then Support Portal.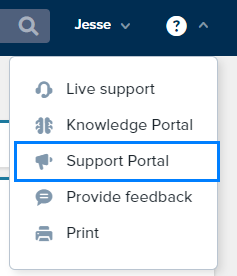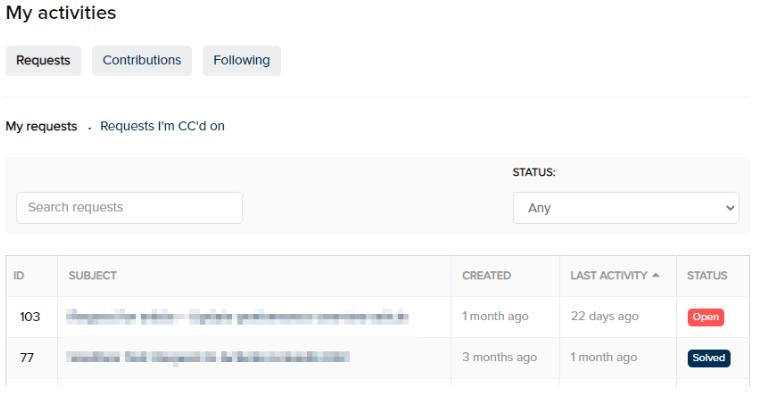 ---
Ensuring that your organisation can access live chat
To ensure that you are able to access live chat, Zendesk has technical information covering browser requirements and firewall configuration. This can be shared with your internal IT team if required. For more information refer to the Zendesk article Zendesk Chat system requirements.
Ensuring that your organisation receive emails from Support
PageUp have implemented SPF and DNS Validation records to ensure that emails sent from PageUp's Zendesk will reach your inbox without triggering any spam filters. If you are not receiving emails, or they are being flagged as suspicious, please contact us. We may need to speak with your internal IT team around how they check emails.
Accessing old Salesforce cases
Cases raised in our previous tool Salesforce will remain in Salesforce. We have no plans to decommission Salesforce self-service and will retain all historical records. Any cases raised in Salesforce that are not yet closed will be actioned within Salesforce. Any new cases will be managed in Zendesk. You can continue accessing historical records using your Salesforce self-service account.
---
Community Hub - late 2023
Another common piece of feedback we receive is that customers want to talk and share ideas directly with each other. To provide this, we will be building out a community hub which will enable you to do this. The Community hub will also be accessible along side the Knowledge Portal and support tickets so everything is easy for you to keep track of.