Public
Read on for the latest news about how we use Zendesk to consistently deliver world class support to you.
---
What are we working on?
Community Hub - Early 2024
A common piece of feedback we receive is that customers want to talk and share ideas directly with each other. To provide this, we are building out a Community Hub which will enable you to do this. The Community Hub will also be accessible alongside the Knowledge Portal and support tickets so everything is easy for you to keep track of.
---
What's new?
Knowledge Portal
On 15 April 2023, the Knowledge Portal moved to the new Zendesk platform.
A new home
The Knowledge Portal has gone through iterations over the years and has long lived on an infrastructure that has served us all well. The time has come for something new, bright and shiny! Much love has been put into migrating and ensuring the content you know onto a new set of wheels and we can't wait for you to come along on the ride with us.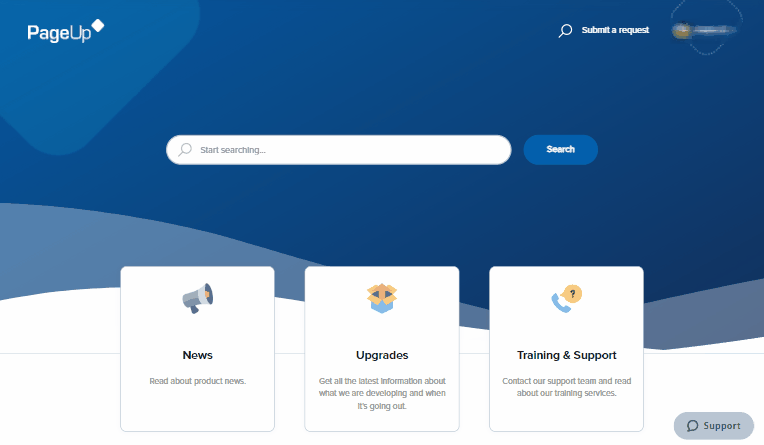 We hear you! Based on your feedback, the home page showcases what is most important - getting access to the content quickly! Each module is front and centre.
Search
Searching in the new Knowledge Portal will be a lot easier than it was before! The new Knowledge Portal performs a full-text search of our knowledge base articles.
When entering a search query, the search algorithms get to work, looking for indicators of the most relevant results and ranking them. The relevant snippet from the content of articles is created and the search results and relevant search filters are displayed on the search results page.

Viewing your activity
Not only is the Knowledge Portal your one-stop shop for all things PageUp, but it is also an avenue for you to raise, view and track your ticket activity. Don't worry, you can still contact our Global Support team using the same methods you know and love.
On that note…
You can chat with our Global Support team (online 24/5) directly from the Knowledge Portal! Just click on the Support chat button located at the bottom right of the page.
Login access
We've also made it easier for you to access the Knowledge Portal. Access is now tied to your PageUp user account. If you're logged into PageUp, you will be automatically logged into the Knowledge Portal. If you're not already logged in to PageUp, you'll be redirected to log in using your PageUp details.
From the PageUp ATS
Click on the ? icon (help menu) to access Knowledge Portal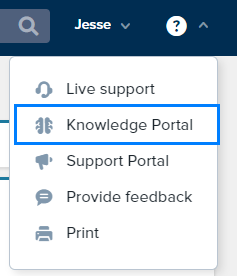 From the Knowledge Portal homepage
For PageUp customers
Click the Sign In - PageUp button located on the top right and you will be redirected to the PageUp login page for you to enter your PageUp credentials or Single sign-on (if enabled).
For Recruitment marketing customers
For details on how to sign into the Knowledge Portal as a Recruitment Marketing customer, refer to Recruitment Marketing - Contacting Support for more information.
---
Support experience
Back on 18 July 2022, we launched Zendesk as our new platform for supporting you.
See Support experience (login required) for more information on:
What the support experience is like.
Ensuring your organisation can access live chat and receive emails from Support.