Recruitment Marketing
Public
Overview
When Recruitment Marketing pulls in live jobs from your ATS, information on their associated departments / categories comes too. When a candidate opts in to job alerts via the Apply Call-to-Action (CTA) as the first step of the application process, they will receive an email notification when a new job matching the department / category and location of the job to which they originally applied becomes available.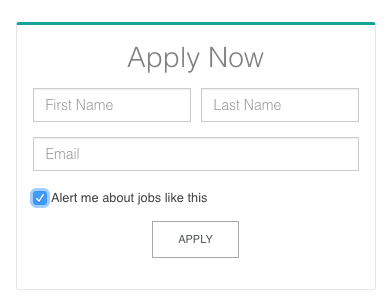 When a stand-alone job alert CTA is added to your homepage, the department / category and location fields will not be pre-filled and candidates will have to choose their own from the drop downs provided.

When a stand-alone job alert CTA is added to a job page, the Department and Location fields in a Job Alert CTA will appear pre-filled in correspondence with the details of the job on that page. The candidate can accept these suggestions and click Send to opt-in, or, they can broaden their job alerts scope and choose to receive notifications about new jobs in additional departments / categories and or locations by selecting them from the drop down lists provided.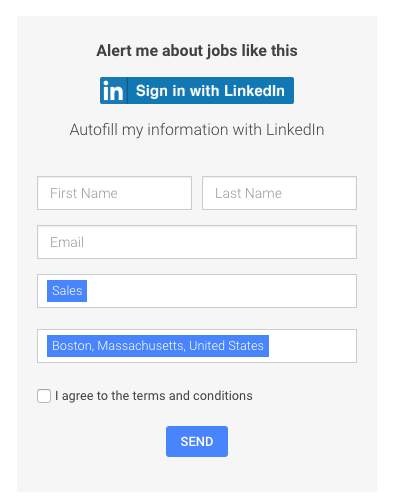 In all cases, it is now possible to include departments / categories in the drop down regardless of whether they have live jobs or not. As the information for live jobs is pulled in automatically during the ATS sync, adding departments / categories that do not currently have any live jobs is a step that must be completed manually.
Configuration
From the side menu, under Company click Settings.
Under Jobs click Job categories or Job Departments - depending on which is in use by your company and ATS.
To add any departments you wish to make available in the job alerts opt-in that aren't currently listed, click the New button.




Enter a Display Name.
Click the Save button.
Once all required departments are displaying in the list, from the the drop down, select All departments available, or All categories available.
Now, when you navigate to your Job Search page on the career site, under Department or Category, you should see all departments / categories listed, including those that show 0 for the number of available jobs.

By the same measure, candidates will now be able to request job alerts for any/all departments / categories the company makes available on the Company Settings screen, including those that show 0 for the number of available jobs.